I had a difficult month with a lot of loss and my subconscious is guiding me through the bereavement by making me pay attention to images that express my feeling.
It has been hard to get back to work after the holiday period and it had taken the whole of January to figure out that the world had changed and my work has to find a new balance with it.
I have spent the month drawing, painting and playing with clay letting my hands lead. And the body of work that will come out is called "A story of love and loss".
A few significant pieces have come out, but the journey is only at the beginning.
I see this period like a walk up a mountain and at every pause there is a moment to catch my breath and look at the new scenery opening up.
A new activity for 2022 is to improve my marketing skills. I have updated my website including a shop facility in it and upgrading my Galleries with my most recent works. I have been using Instagram much more to promote my work and my artistic journey, I am planning to use other social media and enlarge my mailing list as well.
In doing all this I spend quite a lot of time scrolling through other artists works. Some stop me in my tracks because they connect with my state of mind in this period.
Two examples are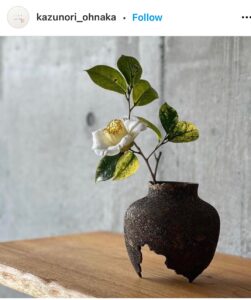 For me these vessels by Kasinori Ohnaka and the Cloud pottery have a connection with the Loss… I see the missing part, the incomplete vessel, the growth from an incomplete container.
My life has to regrow from the missing trunk of the parent tree and the image of the cut plant at the top is for me the significant piece of the puzzle. What will happen next in my workshop? Too early to say!