SCULPTURAL WORK
My figurines and portraits begin at the wheel, formed partly by the natural folding of the clay and partly by deliberate mark making. As characters appear I instinctively give them names and they bring back memories of the elderly people my parents looked after in my childhood.
I remember their expressions, their wrinkled faces and their eyes. Their benign presence is a vocabulary of bygone times. I carve these memories into clay. I want to capture the essence of their expressions and the emotion in those faces. Those saddened by grief, by war, by loneliness as well as those lit by joy, by love and affection.
I work very quickly and instinctively with bold strokes, imprinting the clay with a variety of tools and then manipulating it to make the face or figure appear. At first, I let my hands guide me and later I refine the initial imprint crafting these figures and faces. Using multiple layers of glazes and slips and allowing the colours to run together the finished pieces come to life.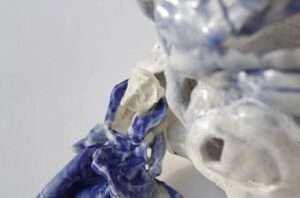 DOMESTIC WARE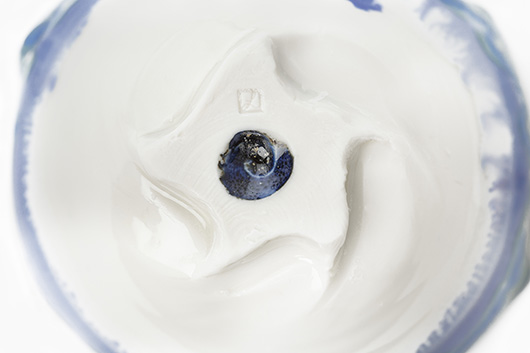 The rippling textures, gentle asymmetries and sensuous curves of my pieces bring to their owners a sense of freedom and liberty. Look for the signature twist in the rim of my plates and bowls, an expression of that spirit, recently enriched by a star shaped foot to add stability and another sensual element to the form. I like this surprise and the difficulty is not trying to decide what is "it" but just letting "it" happen.
All pieces are hand thrown from porcelain to create fine fluid vessels, which are enhanced with crystalline glazes providing rich intense pools of colour and surfaces.
HISTORY
The career of Laura De Benedetti spans 20 years of ceramic art. Qualified originally as a professional pharmaceutical chemist, Laura engaged with ceramics when her first child was born. Studying initially the pottery traditions of Piedmont in North Italy under a professional from Castellamonte, she took her second degree in Ceramic Art in the celebrated faculty of Media, Art and Design at the University of Westminster, graduating in 2007. In recent years her work has featured in Vogue and Homes and Gardens, has been sold at Nicole Farhi, at the National Gallery, at Heal's in Tottenham Court Road and the Victoria and Albert Museum Shop London, and in many galleries across the UK.
Her artistic expression includes functional and sculptural pieces, with the main focus is on fluidity of forms and glazes to communicate emotion and contrast between light and dark.
The physical landscape of her childhood and the memories associated with that period, come to life both in the porcelain tableware and in the figurines and heads of her most recent production.