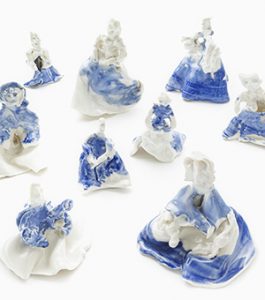 SCULPTURAL WORK
"Less is a Bore", the famous quote by Robert Venturi suits my style perfectly!The Grandmothers body of work happened accidentally at the beginning…as I was throwing a cup, my fingers slipped and one cup went bad, I took it of the wheel and put it to the side…it looked like a skirt…Each figurine starts in a random way, but gains an expression, a gesture, an action, a name: accidental shapes become characters, they are telling a story, they are actors in the play of life.
DOMESTIC WARE
The rippling textures, gentle asymmetries and sensuous curves of my pieces bring to their owners a sense of freedom and liberty. Look for the signature twist in the rim of my plates and bowls, an expression of that spirit, recently enriched by a star shaped foot to add stability and another sensual element to the form. I like this surprise and the difficulty is not trying to decide what is "it" but just letting "it" happen.
All pieces are hand thrown from porcelain to create fine fluid vessels, which are enhanced with crystalline glazes providing rich intense pools of colour and surfaces.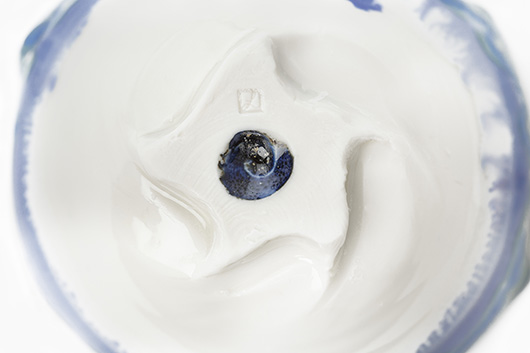 HISTORY
The career of Laura De Benedetti spans 20 years of ceramic art. Qualified originally as a professional pharmaceutical chemist, Laura engaged with ceramics when her first child was born. Studying initially the pottery traditions of Piedmont in North Italy under a professional from Castellamonte, she took her second degree in Ceramic Art in the celebrated faculty of Media, Art and Design at the University of Westminster, graduating in 2007. In recent years her work has featured in Vogue and Homes and Gardens, has been sold at Nicole Farhi, at the National Gallery, at Heal's in Tottenham Court Road and the Victoria and Albert Museum Shop London, and in many galleries across the UK.