Laura De Benedetti started her career in ceramics making domestic ware, such as cups, teapots, plates and bowls to enhance the daily experience of food sharing.
Her main inspiration is the landscape of her home of origin in Northern Italy, which informs her choice of materials. She uses hard, white porcelain to create the "soft" forms of her vessels and the fluid crystalline glazes produce her rich surfaces and pools of intense colour. Her creative journey starts on the wheel, hand throwing each vessel, but then often leaving the soft clay to slowly fold and follow the centrifugal force, creating gently undulating rims. In recent months her exploration of form has expanded from purely functional work to more abstract shapes exploring emotions, memory and connections to landscape.
to purchase work directly.
---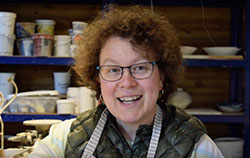 CLAY – LAURA DE BENEDETTI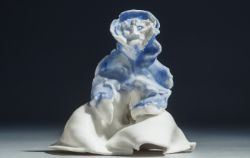 GRANDMOTHERS – LAURA DE BENEDETTI